Lesson KB 02: To Understand Your PSoC 5LP Board
Overview
Before you learn about the Cypress PSoC 5LP microcontroller, you have to understand the PSoC 5LP development board you use. This session shows the location of the various components on the PSoC 5LP board and also describes the hardware interface to the external devices.
PSoC 5LP Boards
Cypress CY8CKIT-059 Kit
The Cypress CY8CKIT-059 Prototyping Kit includes the following features:
Micro-USB connector to enable USB application development
Onboard CMOD capacitor to enable CapSense development
Bypass capacitors to ensure the high-quality ADC conversions
An LED to provide feedback
A push button to provide a simple user input
Load capacitors to connect 32 kHz external crystal oscillator
3.3V to 5.5V operation
Integrates the Cypress KitProg, a programmer/debugger with USB-UART and USB-I2C bridge functionality.
Jumper
The PSoC 5LP Prototyping Kit consists of the following jumpers: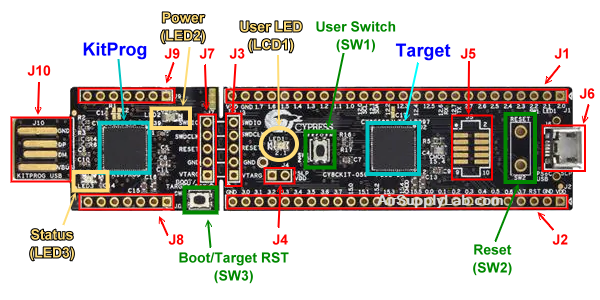 Figure 1
: CY8CKIT-059 PSoC 5LP Prototyping Kit
| Jumper# | Description |
| --- | --- |
| J1, J2 | PSoC 5LP Header Connectors |
| J3, J7 | SWD Connector |
| J4 | PSoC VDD |
| J5 | PSoC 5LP program/debug SWD/JTAG header |
| J6 | Micro-USB connector |
| J8, J9 | KitProg GPIO Ports |
| J10 | KitProg Connector (To Host PC for program/debug) |
EagleSoC Development Board